When I'm not busy with work I enjoy travelling to other continents. I've put together some pages describing my main travels. Those include trips to Peru, Ethiopia, China, South Africa and Brazil/Bolivia/Chile.

I liked all of my trips but my favourite one was probably Peru. What a great country. The nature! The people! The scenery!

Close second is Ethiopia (right). These men from the Mursi tribe are something you don't get to see every day.

Feel to take a look at the pictures, read the descriptions (were I've had the time to write some!) and get inspired here.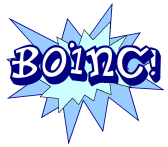 I use BOINC to donate some of my computer time to worthwhile scientific projects. It all started with the seach for extraterrestrial life (SETI@home) projects, but I have now chosen to support projects that I find are more important.
Please consider supporting one of these projects yourself! All it requires is that you allow your CPU do something useful when it would otherwise have been idle.